TODAY'S SOUNDTRACK
Enough time has passed since our last blog, to bury an entire cemetery of unrecorded events. I can wander around, lost in the mists of this graveyard, stumbling at each mound in turn, furrowing my brow in an effort to decipher the scratchings upon the headstones. Sometimes there are words and names that I can almost elucidate, but those triggered thoughts remain suspended amidst the dust of memory, ultimately pristine, never to be disturbed.
Since the last paragraph, I've spent about 35 minutes hunting for an email somebody sent me about something, which I felt would be absolutely ideal for a blog post. Naturally and in the theme of this entry, I AM COMPLETELY UNABLE TO REMEMBER ANYTHING ABOUT IT. I clumsily hit caps there, but as Bob Ross said "there are no mistakes here, only happy accidents".
Yes, the space between the headstones really is at a premium.
What a labyrinth life has become, negotiating a very real if non-physical maze. I'd go into that analogy more, but I used it several blog entries prior. It seems as if being uncertain about things that happen, has become a luxury. Critical thinking? WE DON'T HAVE TIME FOR THAT. No, we have instead a digital chorus and an increasing demand for a kind of theological orthodoxy. The Peer Hat is a place where we can express ourselves and be whomever we desire, without fear of our best intentions being weaponised and utilised for nefarious purposes. This is the great issue of our holographic moment and why it's difficult to voice opinions on corporate platforms that are explicitly being used against us, in open, with apathetic consent. Here's what we will say, quoting the great Argentinean writer, Jorge Luis Borges:
"In Paradise [he discovered] that in the eyes of the unfathomable deity...the orthodox and the heretic, the abominator and the abominated, the accuser and the victim...were a single person"'
Enough for thee? Quite enough. We feel that it's important to say this much also: if you actually have the power to make a difference in this indescribably cruel and unfair world--- and intend to do so, shut the fuck up and get on with it. These are heavy, dangerous times. Or at least it feels that way. Let's make certain that our actions speak for themselves.
Yes a heavy time.We at The Peer Hat have been devoting man hours to the survival of our temple to inclusion, proposing ideas, rejecting ideas....some seeing the light, others regrettably banished to the cutting room floor. At times it feels futile...are we battling the shift towards a new social order? One in which people don't go out, don't go to music venues? Are we representatives of an old order that spells death for the immuno-compromised? These are questions we will be forced to ask over and over, as will you, our dear friends, family, fans, customers and artists. We gain nothing by nailing our colours to the mast, as I hope I have already demonstrated. But whatever the motive, an attack has been made on every single bulwark of life---friendship, family, sex, mourning and celebration. We here hope to offer a taste of honey. We built ourselves on a foundation of community. Thus we wait. And our survival depends upon that community valuing the idea of itself and of freedom, more than it values the safety offered in isolation.
We cannot make that decision for you, but we will be waiting. Our decision in that respect is made.
On the side of the less dramatic, there are some potential avenues of light which may yet make the notion of spending time with us, something less than a game of psychic Russian Roulette.
In the first place, the recent spate of government relaxations, has made opening up on July 4th, a legal possibility. The light here, is that this represents something akin to a swift step towards the usual menu of social pleasures. The downsides are, unfortunately, considerable. Table service, no live music, no dancing---apart from loyalty to the idea of The Peer Hat, what joy would there be to glean from such a scenario? It's close to the equivalent of sneaking a can of Special Brew into the doctor's waiting room. Staggered closing (imagine calling a competing bar and asking them to shut 15 minutes before yourself), slot booking (table B , come in, your time is up) and potential data collection exercises, further write home that this current Wetherspoon's friendly, great re-opening, is a smoke screen behind which venues like ours, cannot function and cannot be seen.
Secondly, plans are afoot to pedestrianise Stevenson Square and surrounding streets. Hurray for the Save Our Summer Six (sorry, who?)! We can envisage a fairly interesting scenario that sees people enjoying the famous Mancunian outdoors, mingling (at a distance!!!!!!)....perhaps even a near festival vibe. The downsides, are threefold. Firstly, this looks set to happen in perhaps 3 months time..making this something of an Autumn of Love. Secondly, the large numbers might give cause for the authorities to blanch and shut the whole thing down in a welter of panic. Thirdly, the Great British Weather might have it's own ideas.
Indeed, it is raining as I write. Having just endured four days of increasingly Mediterranean heat, I must say I'm quite glad of the thunder---right here and now, within this instance. Such squalls might spell disaster for any outdoor schemes, but here, this second, I am at peace. It is becoming increasingly useful to locate ourselves in moments--- the greater the fear and uncertainty becomes. Though there is a sense of cessation elsewhere (if not perhaps a firm conviction that the barbarians are not at the gate), for those within the music industry, times are reaching a bleak nadir. Quietly, we face a great vanishing, independent venues and independent artists alike...
What will culture look like a year from now?
How many venues will be standing?
Could we take the pressure of change?
What will our mental health look like?
What about those left behind? Those in the grip of fear? Those that are ill?
Can we come to terms with our mortality?
Can we come to terms with our immortality?
What form does rebellion take when oppression is consensus?
On each of the fronts mentioned previous (friendship, family, sex, mourning, celebration), we are forced to find ways of creative expression that circumvent the presented difficulties. Art is our ally. As is the landscape, if we inhabit it fully. As Conner Habib wrote, it's both possible to be highly suspicious of the authoritarian measures which have shut down our lives AND conscientious regarding the health risks. The two are not mutually exclusive and sadly, this is a failing we see over and again---and not just regarding the virus, but repeatedly in life. Nuance is everything---without it, there would be no life worth living and to ignore it, is to negate life itself.
I've spoken before about the artist approaching the moment when they transcend the music industry, the silly parade of radio voices and radio heads, the pennies for streaming, embarrassing PR photographs, pay to play, shovel-ware and the culture wars of youth, relevance and fashion. I thought it would happen slowly, a transition to localism happening a step at a time. But it seems the change has been forced upon us. The artist, the poet and the musician, have been placed in a state of, paradoxically, hyper relevance. Denied the usual means of expression, we look anew, find them wanting and arrive at a fresh vision of the future..
What does a music venue look like when it's community has been forced to split, when it's raison d'etre seems to have evaporated? Separated, flashing signals at one another, dare I say, "touching from a distance"? Might it starts to resemble a model of the human brain? Or the universe itself? Connections firing between it's members in ways that might even be considered on the quantum scale? Our thoughts, feelings, ideas and actions entangled? You think perhaps love is not a force as strong as gravity? Only one that works within the blinding glare of consciousness , equivalent maybe to the beginning of all creation? Forced ever smaller, we can say (to roughly quote Pete Carroll) , that whilst miracles are very rare on the macro scale, on the Planck scale, they're surprisingly common...
In scaling down and discovering why we're doing this at all, we find the hidden connections and indeed, the hidden miracles.
With that said let's talk about the crowd-funder...
HOW DOES 102% SOUND? LIKE SOMETHING ALAN SHEARER WOULD SAY? WELL LOOK BENEATH!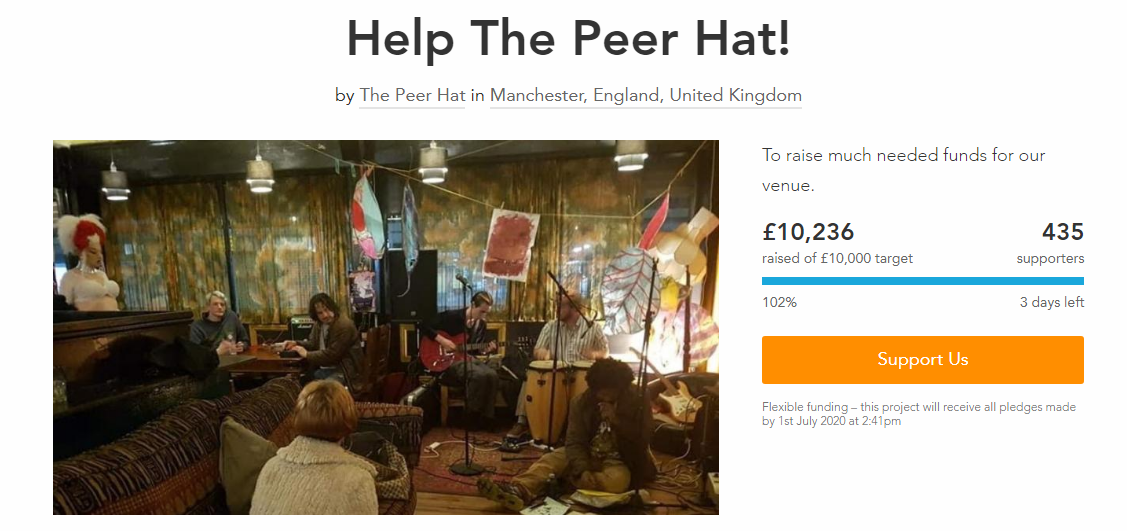 YOU DID THIS AND YES, IT IS ACCOMPLISHED...WHATEVER HAPPENS NEXT, THIS WAS DONE AND REPEATEDLY I FIND MYSELF WRITING IN CAPS AND SAYING "WE DON'T KNOW WHAT TO SAY, EXCEPT THANK YOU".
To write yet another weeping note of gratitude, would be doing you all a disservice. If there is anything of our musical culture remaining after all this, the results of your charity and fondness for The Peer Hat, means it has a far better chance of being a part of what is to come. Either way, you will figure out a way through this. I've said this repeatedly...whatever one calls it...and right now it's called The Peer Hat, Manchester needs a place like this. We won't be kept down.
THERE'S MORE TO BE SAID...LET'S TALK ABOUT BLACK STAGE, THE PEER HAT COMPILATION ALBUM!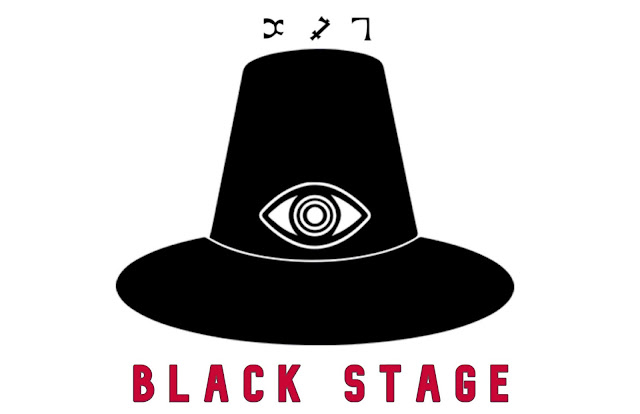 As the crowd-funder has drawn to it's triumphant conclusion, we've searched for another means of bringing home much needed revenue. Finally, we've settled upon a musical release. There will be two Peer Hat compilation albums called Black Stage, one featuring largely local artists and the other, featuring the work of touring musicians who have stopped by to perform with us. The first album will be released on....the 3rd of July. We're thinking £12 is an adequate sum, since we don't want to devalue the amazing contributions of the artists involved. The second album will be released hopefully in mid to late July... we're still collecting a few remaining submissions.
ALL OF THE ARTISTS INVOLVED, DONATED A SONG OR PIECE OF MUSIC, FOR FREE, FROM THE FONT OF THEIR OWN GENEROSITY. WHENEVER YOU SEE THEIR NAMES IN THE FUTURE, SUPPORT THEM, SEE THEIR GIGS, HELP THEM KEEP GOING!
I'll post the track list before Friday to whip up some vibrations.
To finish we want to cast your minds back to November.
Wandering Mexican spirit music duo, Ritual Maya, took residence in our venue for a couple of weeks. I'm sure many of you recall their presence, there was a palpable sense of magic that trailed in their wake, seeming refugees from another time and place, caught adrift on the flow, to find themselves within our most humble venue.
The mystic vibrations were soon to intensify. Who else but Akin could somehow raise the magic to even greater levels? This video is absolutely mesmerising, capturing the act of creation happening in two forms simultaneously. Although the art produced is of course beautiful, the value in this film, is in seeing how there is very little difference between the medium and the message. Something to bear in mind as we plough on through these darkest of days.
Until the next time.